Difference between Rakshabandhan and Bhaidooj- Fabunora
Sibling love is always adored, cherished, and celebrated in our Indian culture. Be it the naughty leg-pulling, nasty fights, or the to-be-there-for-each-other-no-matter-what attitude, we have heard numerous legends and stories of sibling bond from the heart of our mythological Gods and Goddesses to the royalties of the land. But what puzzles most of us is that when we love to celebrate the brother-sister bond through the festival of Raksha Bandhan, then what makes Bhai Dooj so significant when it comes to celebrating sibling love? Most importantly, for someone new to the world of Indian culture, traditions, and festivities, the question that boggles the mind is "What's the difference between Raksha Bandhan and Bhai Dooj?"
Let Fabunora introduce you to the differences between these two auspicious festivals and undo the scratches within your head. Scroll down now! It's time to dig in together to see what both these festivities signify.

Raksha Bandhan is celebrated in the Shravana month of the Hindu calendar. According to the Hindu Calendar, Raksha Bandhan is celebrated on the full moon of the Savan month of the Hindu year. The month of Savan is considered an auspicious period among the Hindus and Lord Shiva is worshipped every Monday during this entire time. The tying of the thread of Rakhi symbolizes the promise of a brother to protect and safeguard his sister from evil forces. Raksha Bandhan coincides with Nariyal Poornima, a festival celebrated during the change of seasons offering prayers to the sea and deity Varuna. On Raksha Bandhan, sisters tie rakhi on the wrists of their brothers, and the latter promises to protect the sister. The exchange of gifts and money is the common custom during this festival.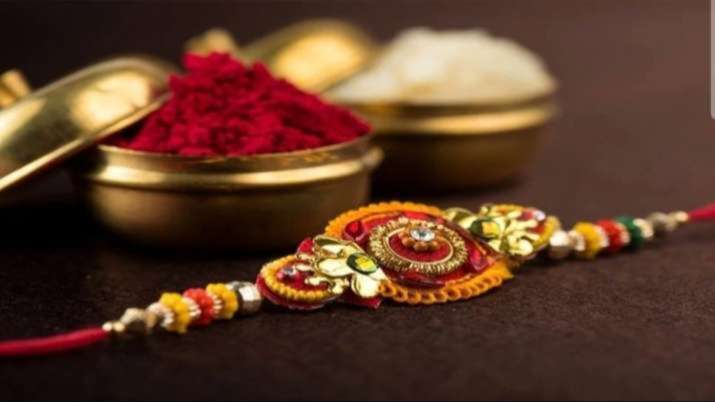 'Bhai Dooj' is known with different names in different regions around India such as Bhai Phonta, Bhaubeej, Bhai Tika, and many more. In South India, 'Bhai Dooj' is called Yama Dwitiya. Bhai Dooj is observed on the Dwitiya Tithi, Shukla Paksha of the Kartik month. Bhai Dooj also marks the end of Diwali festivities. Bhaiya Dooj aka Bhai Dooj, Bhau-Beej, or Bhai Phonta is a festival that celebrates sibling love among Hindus of India, Nepal, and other countries. It is observed on the second lunar day of the Shukla Paksha (bright fortnight) of the Kartika month of Vikram Samvat Hindu calendar. The occasion marks the last day of the five-day-long celebrations of Diwali or the Tihar festival. Bhai Dooj is also celebrated as "Yama Dwitiya" in the southern parts of India.

The Rituals: What Do They Say?
The most distinctive part of both these festivals is the rituals people perform. The varying rituals give us a glimpse of what makes Bhai Dooj and Rakhi so special in the fabric of special occasions across India.

A Promise & A Prayer!
Starting with traditions, the obvious difference between tying a Rakhi during Raksha Bandhan and the application of teeka during Bhai Dooj is what makes them equally special. Rakhi is a mark of a promise by the brother to protect and stay by his sister forever. The application of Bhai Dooj tilak is the mark of a prayer from the sister wishing them the long life and prosperity of her brother. The vermillion that a sister puts on her brother's forehead is considered auspicious and is also supposed to safeguard her sibling from evil forces. Though the application of tilak is a common ritual in both Bhai Dooj & Rakhi celebrations, it holds a special significance during the festival of Bhai Dooj. In Nepal, the sisters apply seven-colored tilak to their brothers. How colorful!
A Flying Visit
As the traditions go, it is believed that on Raksha Bandhan sisters pay a visit to their brother's home and tie them beautiful rakhis with a promise that their brothers will protect them for life. When it comes to Bhai Dooj it is the brothers who visit their sisters' home while sisters cook meals for their beloved brothers and perform the tikka ritual wishing for his long life and prosperity. Bhai Dooj is also known as 'Bhagini Hasta Bhojana' in Sanskrit commemorating the ritual of preparing a feast for brothers performed diligently by the sisters.
Gifting Galore
Gifts make every celebration worth celebrating. During the Rakhi season, brothers dote their love on their sisters with thoughtful presents. But, when it comes to Bhai Dooj, gifts are a sentimental exchange among both the brothers and sisters. It is a reminder of their strong and beautiful bond and hence both brothers and sisters find a way to surprise and treat each other with mind-blowing gifts and presents. But, whatever the occasion, sisters are sure to receive a beautiful surprise!
An Access To Freedom
The best part of sibling love is the constant care of each other's wellbeing and safety. In the olden days, when women enjoyed limited access to the outer world due to marital responsibilities and household commitments, Raksha Bandhan was a great way for women to meet and greet their maternal family while also enjoying a moment to step out of the house. It was the time to tell her tale of the in-laws' home through beautiful folk songs and enjoy the time with other ladies. Bhai Dooj, on the other hand, gave brothers a chance to check on their sisters and their well-being in her in-laws' home.
Today, the world and women have progressed, hence these rituals have a new meaning. In current times, both brothers and sisters enjoy these sibling festivals as a means to connect and the family, reminiscing the old days and childhood memories while also sharing mementos.
Here's What Some of the Legends Say?
Let's look at some of the stories from the books of mythology that still surround these festivities.

Raksha Bandhan:
Lord Krishna and Draupadi-
The most famous tale of all starts with Lord Krishna cutting his little finger when handling sugarcane. Draupadi, the wife of five Pandavas, tied Lord Krishna's finger with a piece of her saree to stop the bleeding. In return, Krishna promised to help Draupadi, his sister, when required. His promise came true when Krishna protected the modesty of Draupadi during her unceremonious disrobing, saving her the embarrassment.

Rani Karnavati and Emperor Humayun-
Queen Karnavati, the widow of King Rana Sanga, wrote to Humayun for help to protect her kingdom from the invasion of Bahadur Shah. She sent him a rakhi and sought protection. Though Humayun turned in late to save Rani Karnavati from her doom, he sincerely restored her kingdom to her son, Vikramjit.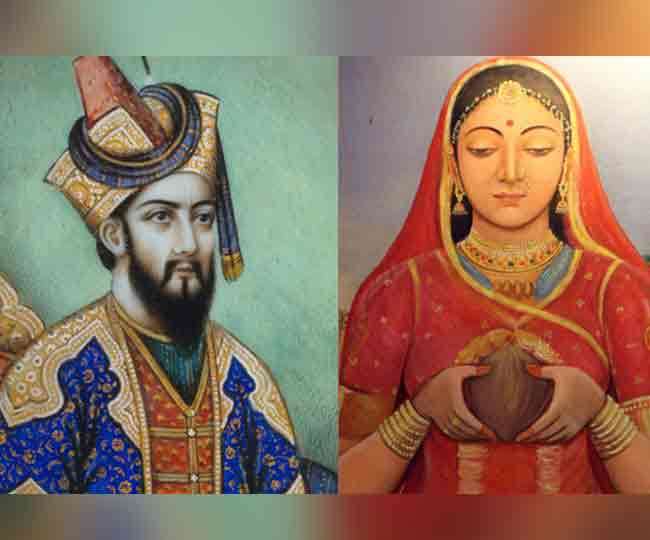 Yamaraj & Yamuna-
According to another legend, Yamuna tied a rakhi to Yama, the lord of death who was so pleased by her gesture and love that he granted her the boon of immortality. Lord Yama declared that any brother who gets a Rakhi tied by his sister and offers to protect his sister would also become immortal.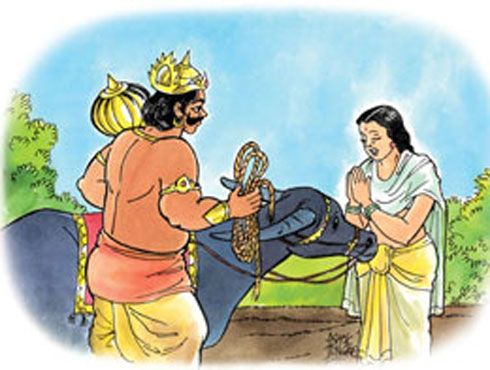 Lord Krishna & Subhadra-
As per this legend, after slaying the demon Narakasura, Lord Krishna went to see his sister Subhadra. His sister welcomed him with flowers, performed aarti, and put a tilak on his forehead as a mark and respect for his victory and valor. This translated to the festival with sisters praying for the long life of their brothers and wishing them prosperity.
 Nandivardhan & Sudarshana-
If legends are to be believed, when Lord Mahavira attained nirvana, his brother, king Nandivardhan started lamenting the loss of his brother and went into mourning. During this time of grief, Nandivardhan was consoled by his sister Sudarshana. This incident gave rise to the festival whereby brothers revere their sisters and shower them with love and presents.

Goddess Laxmi & King Bali-
This is an elaborate tale of sacrifice and love among the siblings. As per the legend, King Mahabali secured a boon from Lord Vishnu which would require Lord Vishnu to be present at every door of Patalaloka. While Lord Vishnu agreed, Goddess Laxmi decided to free her husband by disguising herself as a poor woman. She went seeking help from Mahabali and said she regarded him as her brother as she never had one. Bali accepted her as his sister and in turn asked her to make a wish. Goddess Laxmi immediately asked for the release of her husband, Lord Vishnu, from his service. Bali kept his word and Lord Vishnu was set free. Thus, the festival came to be known for the sacrifice, love, and celebration of the brother-sister bond.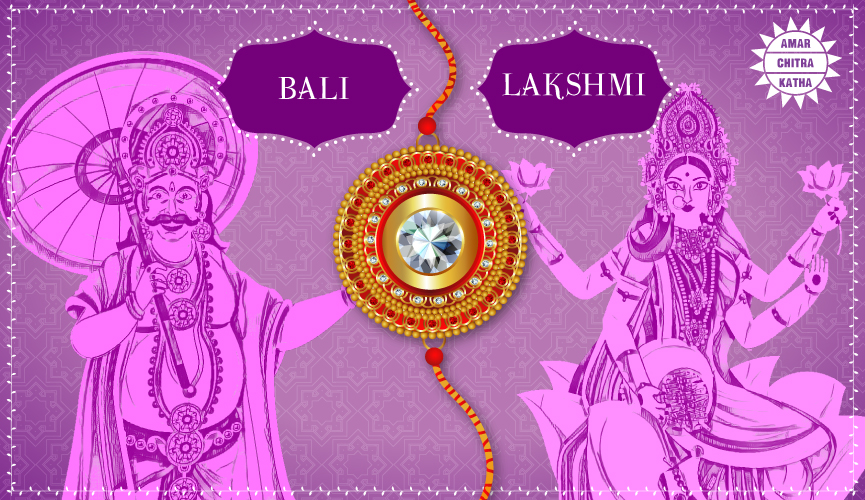 With all these stories, rituals, facts, and legends associated with Raksha Bandhan and Bhai Dooj, you shall no more be confused between the two. While Bhai Dooj is fast approaching, we recommend you choose the best and truly special surprise for your sister, only from the exclusive collection of Fabunora that she is bound to fall in love with. Embellished with zirconia stones and their finished gorgeous shapes, the divine pendants available at Fabunora are nothing but a treat to everyone's eyes. They are curated pure out of 92.5 sterling silver to add a plus one to the glamour around her neck. The pendant dangles from a fine silver cable chain measuring 18'', just perfect to get your sister in the spotlight wherever she goes to. These special bhai dooj gifts for sister from brother spell out the emotion of love, making this Bhai Dooj even more special than you both could have imagined. Thank her for all her love and support that has only made your life better.
To add a thoughtful touch, you get an amazing gift box paired with a message card. The whole message card can be customized to express the excitement and love for her in your own words, her photo, her name, or anything you wish to dedicate to her. Doesn't this all sound so emotional? The moment she would unwrap the bhai dooj gift for sister to find this lovely pendant and message card in it would be even more overwhelming. Bhai Dooj is the perfect time to tell her that you're the best brother she can ever get, and you will always love and support her no matter what.
Since our immemorial existence, gifts have assumed a symbolic representation of love and present to be tokens of affection. These Special Gifts to Sister on Bhai Dooj are light years beyond the materialistic value it carries and represents an endless ocean of feelings, care, and adoration that can be matched by none. Bring alive the beauty, grace, and divinity of Bhai Dooj with Fabunora's most special Bhai Dooj Gifts for Sister from Brother and spread love and joy to the person you love most! Rush up and order now.


Leave a comment